Affiliations Worldwide:
To maintains the highest quality assurance standards for TESOL training, The TESOL Training Centre TESOL programmes are officially endorsed by TQUK (Training Qualification UK) who are recognised by Ofqual. This ensures that your TESOL certification is recognised worldwide by your employers all over the world.

Centre Approved Number: 170999

What is TQUK (Training Qualification UK)?
TQUK is an Awarding Organisation recognised by the Office of Qualifications and Examinations Regulation (Ofqual). Ofqual maintains standards and confidence in qualifications. They look after GCSEs and A levels in England, and a wide range of vocational qualifications both in England, Northern Ireland and Wales. They also regulate the National Curriculum Assessments in England.

TQUK offers qualifications on the Qualifications and Credit Framework (QCF). Qualifications regulated by Ofqual are listed on the register of Regulated Qualifications:

http://register.ofqual.gov.uk

TQUK aims to provide qualifications that meet the needs of industry. Courses are designed by leading professionals and delivered to centres and learners with integrity and compliance in mind. To accompany the qualification, TQUK provide centres with world class customer service to support in the delivery of the qualifications worldwide.

Please visit their website here: www.tquk.org





EFL International

EFL International is based in Australia. The group oversees English As First Language Curriculum Design and Assessment worldwide. Using methodology adopted from Australia and Singapore, the EFL International is a pioneer In delivering English as First Language syllabus design that incorporates real contextual teaching methods into the four language skills (Speaking, Writing, Listening and Reading). The group runs the English As First Language Licensee programme worldwide to bring quality English education to students worldwide.





The Tesol Training Centre

The TESOL Training Centre (TTTC) is an established Teacher Training and Development institution based in Canada and Singapore.

The courses offered by TTTC are available in Singapore, Australia, Malaysia (Johor Bahru, Kuala Lumpur, Penang, Malacca, Sabah), Sri Lanka and the Middle East. Since its inception in 2002, TTTC has grown rapidly to be one of the world's foremost English Language Teacher (ELT) training institutions. Over the years, TTTC has successfully trained more than 4000 teachers worldwide.

The TESOL Training Centre provides a wide range of training and development courses for Teachers, Tutors, Lecturers and Trainers from Government Schools, Language Schools, Enrichment Centres, Early Childhood Centres, Tuition Centres and Business Schools.





The Academy of English Language Teachers Singapore

The Academy for English Language Teachers is a Teacher Training Institute located in the Central Business District of Singapore. We offer professional development opportunities to help English Teachers sharpen their teaching skills, enrich their lessons with interesting activities, and guide the creative voices of their students more effectively.

Courses offered by The Academy for English Language Teachers are based upon GLOBAL TESOL College courses which feature an original approach to teaching English with an emphasis on creative application. In addition, the course offers activity-based methods for developing high-level fluency with theoretical concepts and effective methods for teaching English.





MELTA

The Malaysian English Language Teaching Association (MELTA) is a voluntary, not-for-profit professional organization which was officially formed in 1982. MELTA's stated constitutional aim is to promote English language teaching.

MELTA is deeply committed to representing all Malaysian English language educators, contributing towards their continuous professional development in line with national goals and aspirations. MELTA is run completely by Malaysian volunteers professionally involved in the teaching of English language and education in the English language. MELTA grew out of two earlier organizations - The English Language Teaching Association and The Selangor English Language Teaching Association and its combined history can be traced to the year 1958. Since then, MELTA has gone through many changes, accommodating itself to the needs of the nation's English language stakeholders.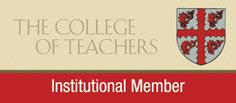 The College Of Teachers (U.K)

We are the UK's professional educational institute for teachers. Holding the 366th Royal Charter issued by the monarchy, we are run by our Members for our Members.

The College of Teachers aims to be at the forefront of continuing professional development and promoting the teaching profession. We are a democratic organization, run entirely for our Members. The College extends its Membership to individuals and institutions that share the aim of advancing the interests of education and strive to support improvements in standards of teaching and learning.





The International Association of Teachers of English as a Foreign Language (IATEFl, U.K.)

IATEFL stands for the International Association of Teachers of English as a Foreign Language and our mission is to link, develop and support English Language Teaching professionals throughout the world. Founded in the UK in 1967, it now has over 3,500 members in 100 different countries throughout the world.





VicTESOL, Australia

VicTESOL is a professional association committed to promoting excellence in Teaching English to Speakers of Other Languages and fostering and supporting cultural and linguistic diversity through high quality multicultural education. VicTESOL provides support and services to generalist, content, trade and ESL specialist teachers across sectors including: kindergartens; schools; adult & community education; TAFE; LLNP, AMEP and WELL programs; ELICOS centres; universities; and industry settings.





The Human Resources Development Fund (HRDF) is administered by Pembangunan Sumber Manusia Berhad (PSMB), an Agency under the Ministry of Human Resources, via the Pembangunan Sumber Manusia Berhad Act, 2001.

In fulfilling the nation's aspiration to attain the status of developed country by the year 2020, the HRDF was established in 1993 with the aim of developing quality human capital and world-class workforce in order to achieve a high income economy based on knowledge and innovation.

Its vision is to be the driving force in training and development of the workforce while its mission is to enhance workforce knowledge, skills and capabilities through effective management of its fund. The objective of the HRDF is to encourage employers covered under the Pembangunan Sumber Manusia Berhad Act, 2001 to retrain and upgrade the skills of their employees, apprentices and trainees in line with their business needs and the development strategy of the country.





SMC is a truly global university with learners from more than 130 different countries. We educate high achievers with a sense of individualism, standing out from the crowds. You receive an unsurpased service, strong professional networks, true career opportunities and remain flexible in place & time. Our online MBA and online Doctorate (DBA) hold a pole-position in academia. Our signature Executive Training Courses open you exciting professions and a "money can't buy" experience.

The core of SMC's student body, which consists of high achievers from currently more than 130 different countries worldwide, has an advanced professional standing and typically resides at the very top of internationally renowned organizations and businesses. This circumstance creates an unsurpassed added value to SMC's students insofar, as they benefit from sharing extensive experience, knowledge, and best practices – a true competitive advantage. SMC's flexible online Master and Doctorate programs can be followed part-time from any place in alignment with the students' personal and professional commitments.

SMC recognizes the need of working professionals and individuals in demand of highest flexibility. Our distance learning system allows students to create personal calendars in alignment with professional and personal commitments. Enrollment is ongoing; the programs can be followed from any place, at any time, and any pace. Personal attention is a hallmark of SMC's service culture. Our administration and faculty is amongst the most responsive, attentive, and service oriented in the education arena. This is an aspect, which significantly enhances the learning experience, quality, and success.

SMC is accredited by the Accreditation Council for Business Schools and Programs (ACBSP), the leading specialized accreditation association for business education supporting, celebrating, and rewarding teaching excellence. ACBSP is a programmatic accreditation body in the U.S., recognized by the Council of Higher Education Accreditation, CHEA.